Over 100 miles of beautiful riding!
This is our First Annual Ride for Kids to support child victims of abuse, and help keep kids safe in our community.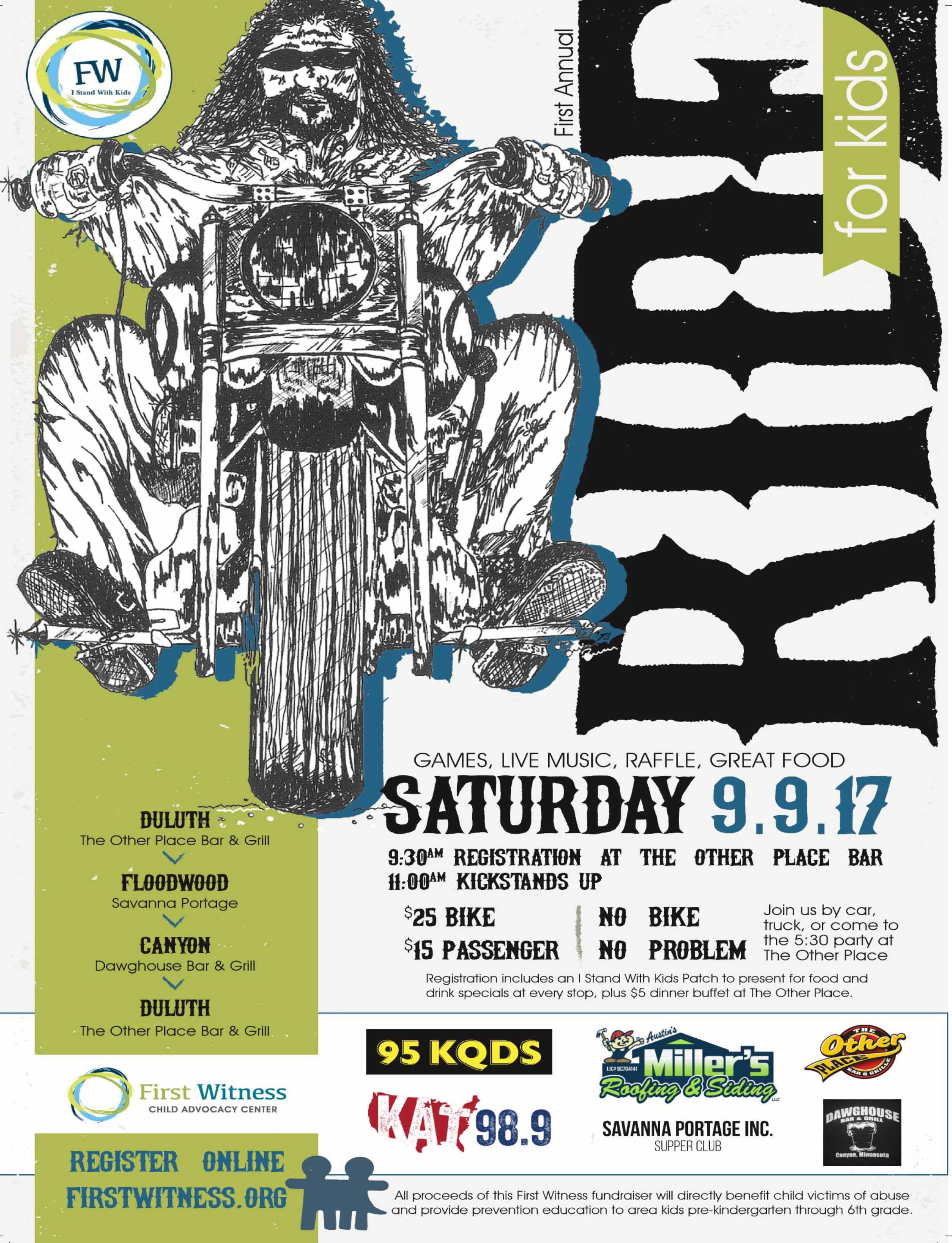 What's included in my registration fee?
Registration fees for bikes and passengers include an I Stand with Kids patch to present for food and drink specials at every stop, and $5 dinner buffet at The Other Place. Oh…and the riding with a great group for an even greater cause – ending child abuse.
Should I Register online or in person?
It's totally up to you but of course we prefer registering online. We need to know how much food to order!
Bike Check-in Registration
9:30AM at The Other Place Bar & Grill, 3930 E Calvary Rd, Duluth, MN 55803.
The Other Place Bar and Grill (OP) opens at 8:00am, with drink specials if you want order breakfast.
Late to the Ride Registration
Can't make it in the morning to the Other Place Bar and Grill? No problem! Register at any of our stops along the way. You can always register online now and we will have your name ready and waiting for you when you show up.
Kickstands up
11:00AM
Route
Duluth, Other Place Bar and Grill
Floodwood, Savanna Portage
Canyon, Dawghouse Bar and Grill
Duluth, Other Place Bar and Grill
Games
50/50 Raffle
Prize Raffle
Best Bike Contest
Slowest Bike Race
Keg Roll
What if I don't have a ride?!
Just because you don't have a ride or someone to ride with doesn't mean you can't participate in all the fun. Show up for food and drink specials, enter drawings for prizes and cheer on the bikers when they roll in! Meet at any location.
After Party
We are very excited to close the day out at the Other Place Bar and Grill with the Farsights! You don't have to ride to be part of the after ride fun!

Wait, what's this raising money for?
All proceeds will go directly to help child victims of abuse, and provide prevention education to area kids pre-kindergarten through 5th grade.
Need a place to sleep? 
We have a pretty amazing deal with the Radisson Downtown Duluth. When you register, you will be given a super secret code to reserve your room. They have a limited amount of rooms so register for the ride today!